September 2019
New ways with new materials
You don't want to do without the advantages of a plastic carrier bag, but nonetheless want to find a sustainable solution for your advertising bag? We have just the right offer: PET polyester.
With this carrier bag material made of 100% recycled PET bottles, you will be making a great contribution to recycling raw materials.
The PET polyester carrier bags are very light, fold easily, save space and can be produced in individual sizes for you.
If you would allow us to support you to along your path to new methods, get in touch with our experts.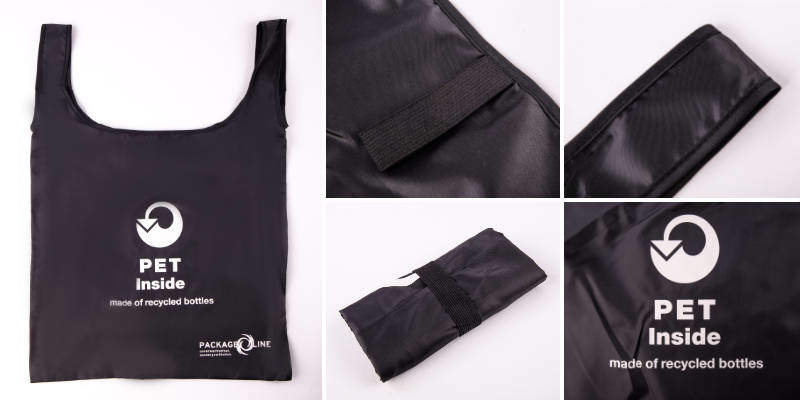 September 2019
The 100% PET bag
We are setting new milestones in recycling with this new development made of 100% recycled PET bottles. You are putting recycling values into practice with a PET NonWoven bag, without having to do without excellent quality.
For the background colour of the basic material, you have a choice of white or black, which can be finished with a screen or digital print. We will tailor this bag according to your wishes in individual sizes.
Would you also like to rely on sustainable advertising bags? Get in touch with us.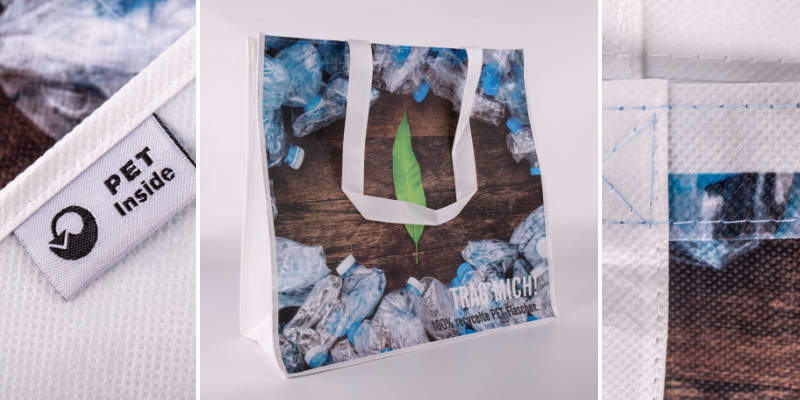 August 2019
Brilliant images thanks to digital printing
Add sharp, clear photographs to your advertising bag and impress with enchanting colours. We are offering you the digital printing procedure for our cotton, bamboo and PET NonWoven bags to give your individual bag a magnificent presence.
We can create things that are normally only possible using screen printing with digital printing, in a new photographic quality.
This print procedure will allow your ideas to blossom splendidly on our natural and recycling bags.
We would be delighted to explain this offer in more detail – just give us a call: +41 71 955 66 66.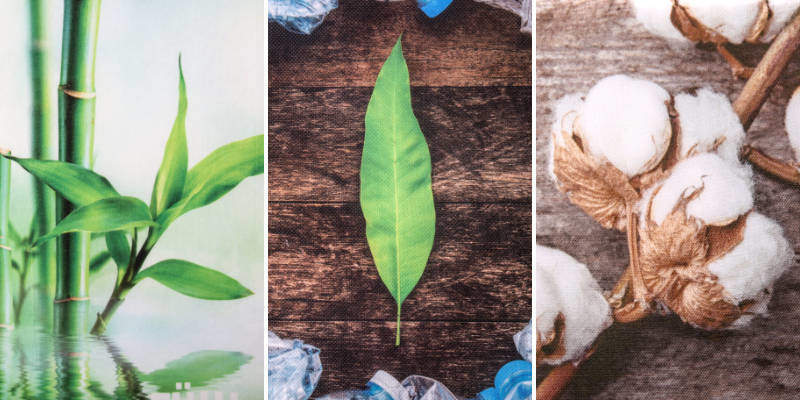 May 2019
Strikingly cool – refreshingly different
Bags that surprise. Our CoolLine cool-bag is ideal for making a refreshing change.
The combination of ecologically sustainable, high-quality and natural canvas and the insulating inner layer turns this cool-bag into a true all-rounder. Easy to carry in the hand or over the shoulder, it offers plenty of space for everything you like to take with you. There are – almost – no limits on the design. Request an offer now and we will be happy to send you a sample to test. You will be delighted, both by our product and our service. Contact us – We will be very pleased to help you.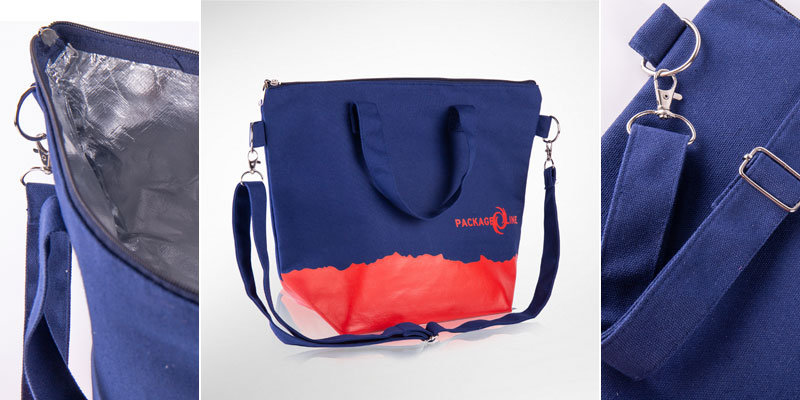 February 2019
DRYBag – a product that keeps things dry.
Outdoor fans take note. DRYBag by PACKAGE LINE GmbH will keep your personal items dry. This striking, trendy pack bag will accompany its owner on a bike, on cycling and hiking tours and through water. As a trend-conscious company, make use of the opportunity to surprise your customers with a powerful gadget.
Handling is easy: fill the DRYBag, fold the top edge over several times and then fasten with the click closure. The hanging strap makes the DRYBag easy to transport.  Would you like to learn more about formats and possible colours? +41 71 955 66 66 will give you the facts.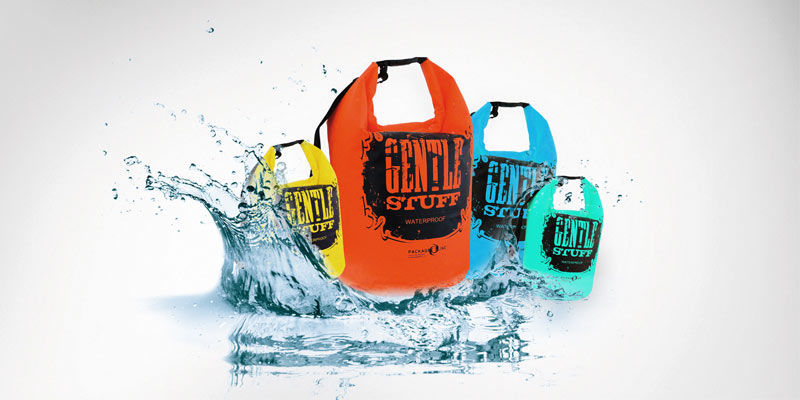 July 2018
For enjoying sports
In April 2017, we launched our DRYBag. This product has been so popular that it has inspired us to develop its use further. Under the name "GymDRYBag", our DRYBag has become more mobile, easier to carry and more versatile in use. Developed to accompany hiking tours or cycling excursions, it will keep its contents dry and clean. The extra strap across the chest will ensuring carrying comfort. The GymDRYBag can be printed in multiple colours. Order your sample today.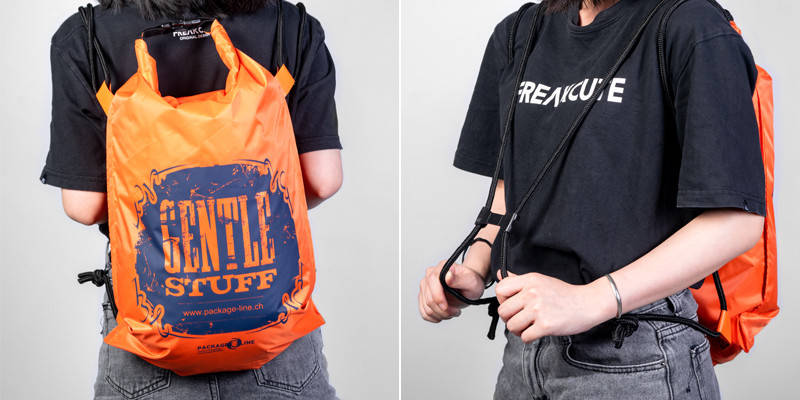 4 in 1 BagLine offers you the freedom to decide how you would like to carry your personal bag. You can choose from four functions for one bag. Its owners will love it carried as a rucksack, as a shoulder bag, as a shoulder bag with diagonal strap or as an ordinary carrier bag. A further advantage of the 4in1 BagLine is the choice of material. Choose from cotton, bamboo or polyester. The choice of material will determine the printing technique used in finishing the bag. You can get further details from our bag experts.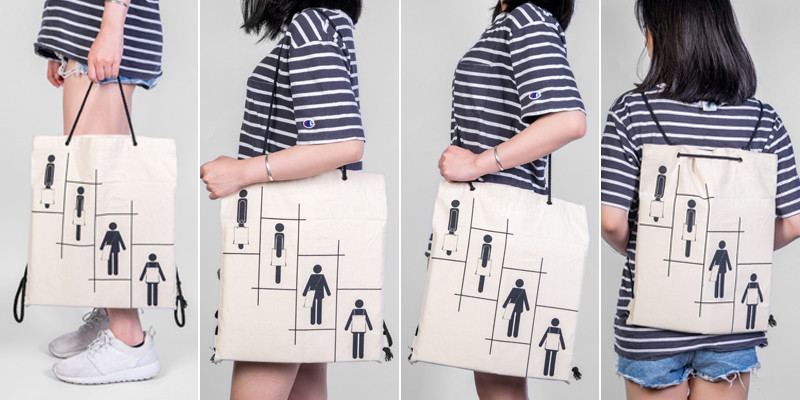 June 2018
NEW DEVELOPMENT
LDPE is not a magic formula. Rather, it is an active contribution to the re-use of recycled polythene bags in the manufacture of new ones. The recycled bags meet sensible ecological requirements. Only the feel of the bags is a little different. The surface is slightly grainy. The quality aspects, such as printability and stability, are not impaired at all.
Order a sample bag and let yourself be convinced.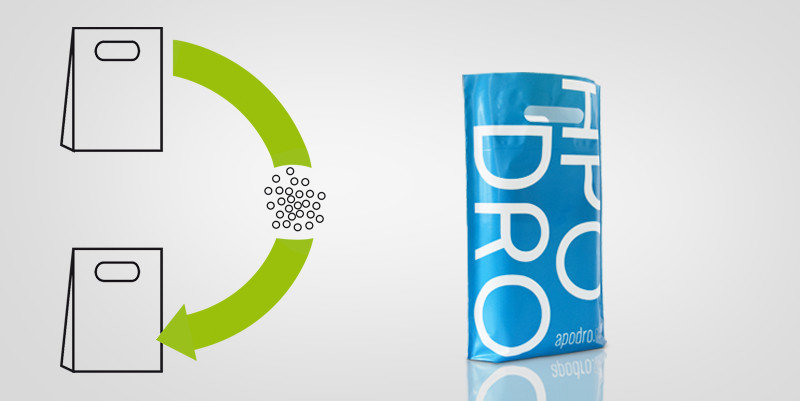 April 2018
Do good things and talk about it.
In our case, a fascinating article about us was printed in Pack Aktuell. Topic: Felt products with a retro touch. A material that is still very popular. The designs are correspondingly varied. We recommend: read the article and then find more details on our home page. Look under the heading "ImageLine" to see how attractive felt can be outside the classic bag field. From menus to slippers and spectacle cases, new perspectives on felt will open up for you. Go to the article in PACKaktuell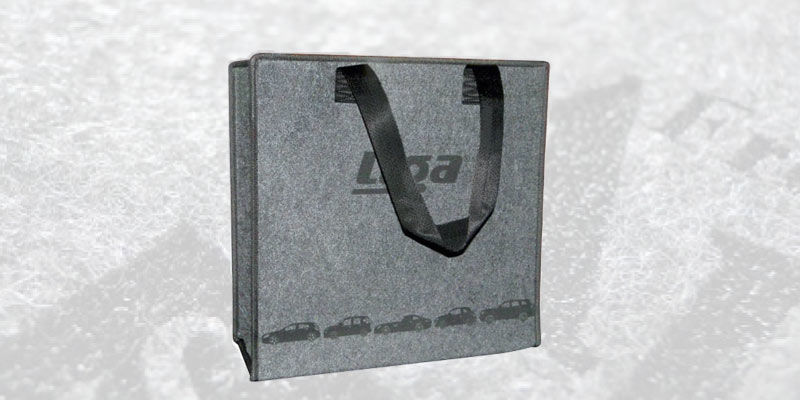 March 2018
On all the roads
These rolling carrier bags have discovered the road format. Pleasant to look at and appropriate, these messages reach their recipients. PACKAGE LINE GmbH is using this image campaign to get close to the end consumer. More vehicles are planned: the aim is to make the PACKAGE LINE GmbH brand better known all over Switzerland and its neighbouring  countries.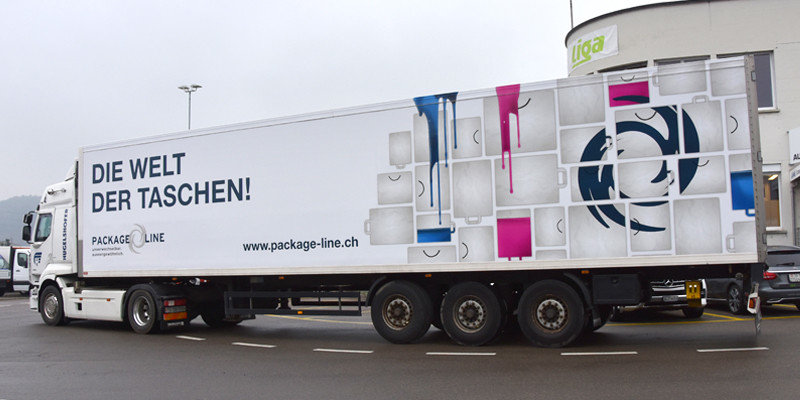 October 2017
Creativity and quality gain approval.
Bags are more than just a means to an end. Well realised, they draw attention. The sender and the message are shown in an appropriate light. A process that Chromos AG recognised for themselves. We are especially proud that Ms Katinka Gyomlay, Marketing and Communications Officer of Chromos AG, has discovered us. She has entrusted us with the manufacture of this special bag. Thank you very much.
This bag not only created a stir among those who received it, but the editor of Pack Aktuell, Michaela Giger, also found it raised her awareness. You can read her article here. Go to the article in PACKaktuell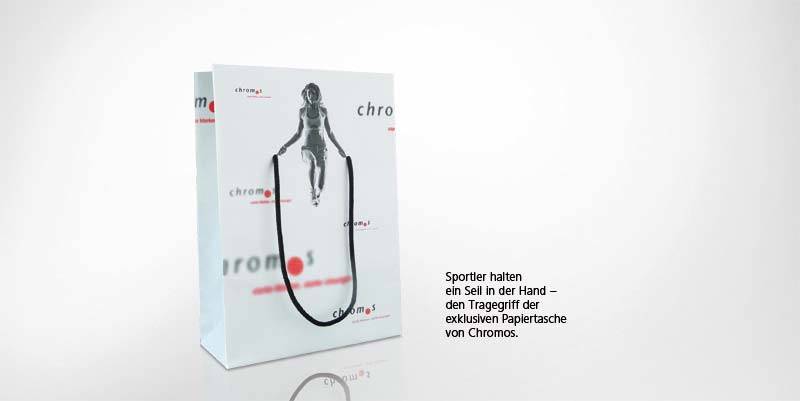 August 2017
EMEX–2017 with a touch of JUTE and JUCO.
Knowing what's on trend – not a problem for the organisers of EMEX. This year's official trade fair bag is not only in tune with ecological thinking, it's also impressive thanks to its shape-retaining finish. More and more new materials are taking over the world of bags. Ecology is not just sexy, it is also part of an environmentally conscious approach to life. Visitors to EMEX can convince themselves of the pleasant feel of the bags.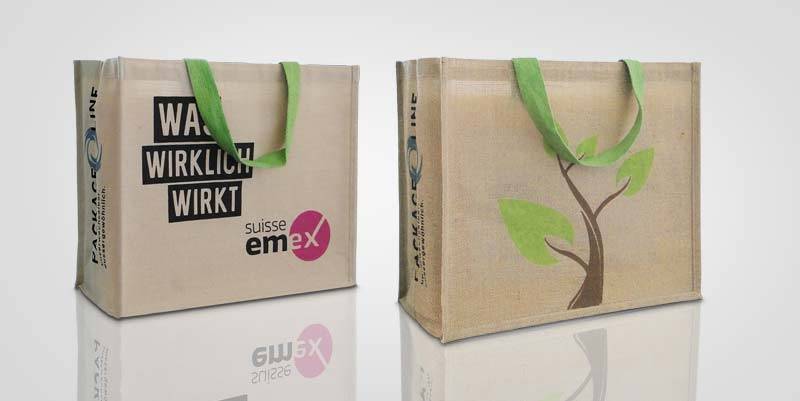 July 2017
Everything for your fun day out will also stay dry.
Trips out can become interesting and richly diverse experiences. DRYBag by PACKAGE LINE GmbH will accompany you on your adventures. By land and by water, these bags are more than a useful carry-all. They can dip underwater without too much of a problem. If they are properly closed, their contents will stay dry. The Department for Spatial Development and Geo-Information of the Canton St.Gallen has made this discovery and enjoyed a departmental outing in the dry. Give your customers protection with style. Our DRYBags are excellently suited as promotional and gift items. Are you interested? Phone us. Tel. 071 955 66 66.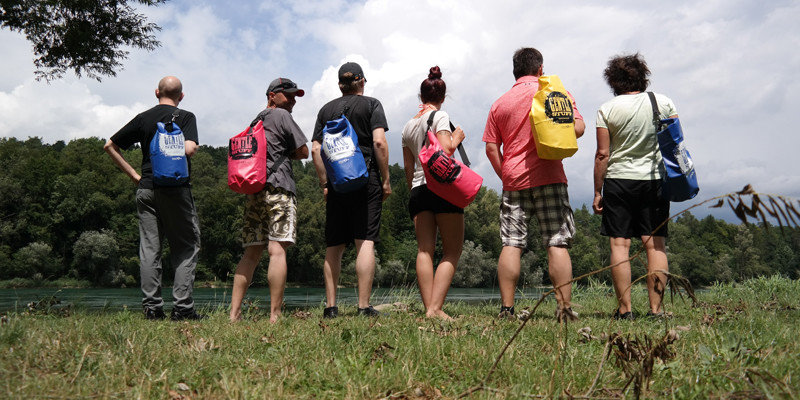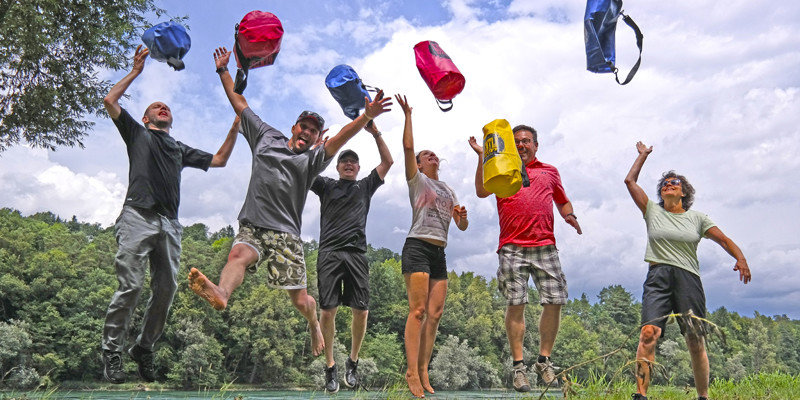 October 2016
The latest news: an important commitment
A new development for Package Line GmbH is its representation in the Environmental Arena in Spreitenbach. This commitment is not just an acknowledgement of environmentally friendly products, but also stands for the processing of recyclable materials. PET is an outstanding example. Used drinks bottles go to make new products such as bags and materials that are very popular in recycling because they are so hard-wearing.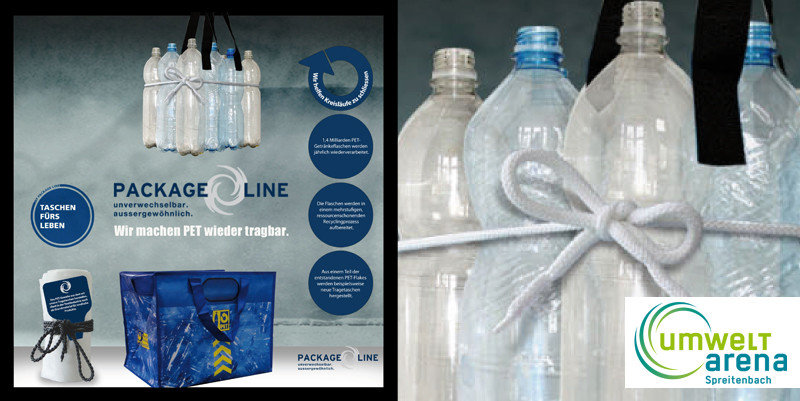 August 2016
emex – quality-conscious
In 2016 our products will once again be featured at "emex". This year, we will be giving visitors bags manufactured in PPNonWoven. The processing and print quality meets all possible requirements.
Perfect down to the smallest detail, customers receive products that have harmonised carrying handle and bag colours. Give your company slogan or headline special expression by having the message woven into the carrying handles. We will be happy to discuss with you and explain various applications and options. Welcome to belief in quality – welcome to emex 2016. By the way: if you can't come to attend the trade fair, we'll be happy to send you your personal Emex bag.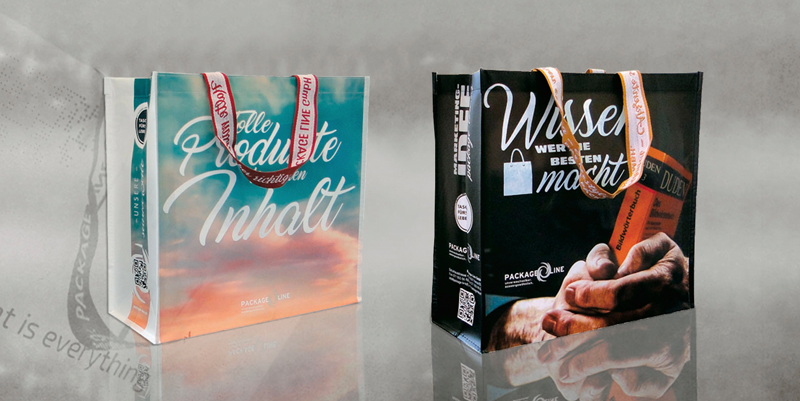 April 2016
The right type.
As of now, it will be easy for you to find and purchase the right bag. The launch of our bag finder will hand you the knowledge that will make quick decisions easy for you. You can find information on use and products, but also above all everything important in this reference work about delivery periods, carrying loads, printability and last but not least the variety of sizes. Order this valuable compendium by e-mail at info@package-line.ch or by phone on 071 955 66 66.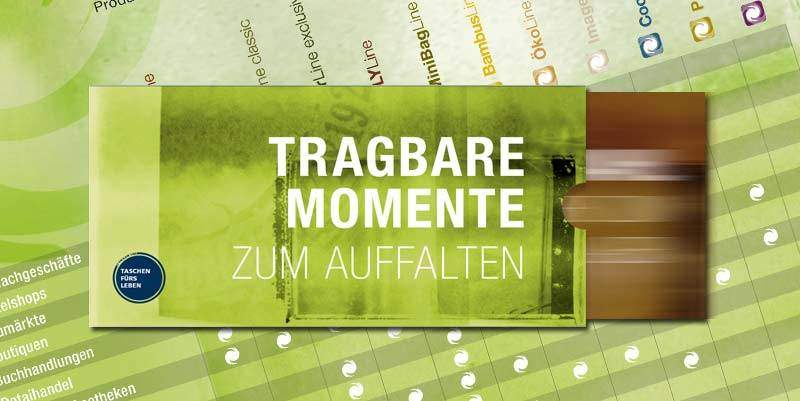 August 2015
FELT is top fashion.
For some time now we have been making FELT into carrier bags with effective advertising. This is how we created the EMEX bag for 2015. However, one thing our customers and interested parties have not yet noticed quite enough is the option of a printed interior lining. Decorative patterns or your own brand are excellent features to use. Rivets can be processed, not just for functional reasons; they can also have a decorative effect or, embossed, serve to identify the company. Use the opportunities of felt bags. As a version of the carrier bag, they are also an interesting solution for price reasons. Find out more under the heading ImageLine.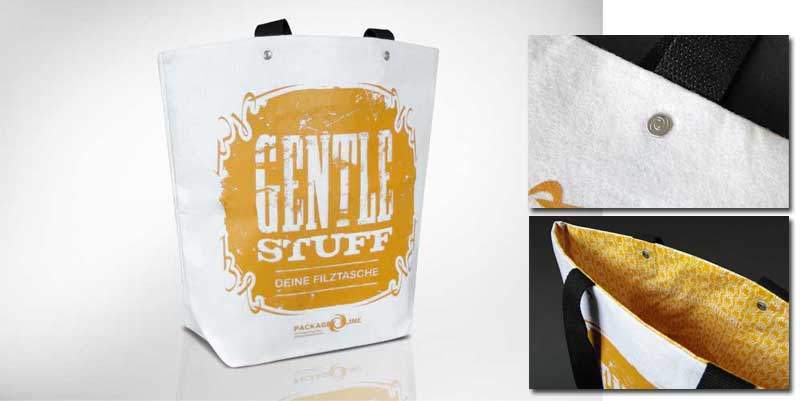 June 2015
Miss Earth Switzerland 2015 is wearing pure nature.
PACKAGE LINE GmbH was also represented this year in the choosing of Miss Earth Switzerland in the Environmental Arena in Spreitenbach. Our Henau-based company made a full and complete showing of our core expertise in carrier bags. A chic carrier bag made of bamboo represented us at this 10th staging of this event. The newly crowned Miss Earth Switzerland 2015, Corinne Schädler, likes the pleasantly soft bag material. Order a sample and let yourself be convinced to contribute to supporting the environment. Order a sample bag.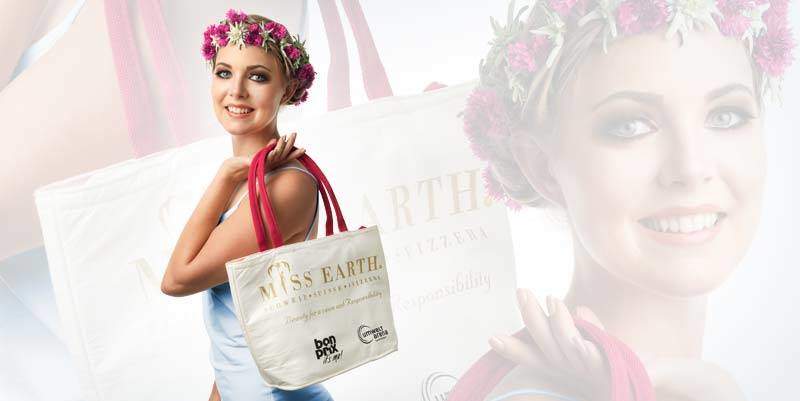 March 2015
Order it and feel it.
Many things have remained the same. For example the sample service. We place a high value on letting you have held at least one sample product in your hands before you give us an order.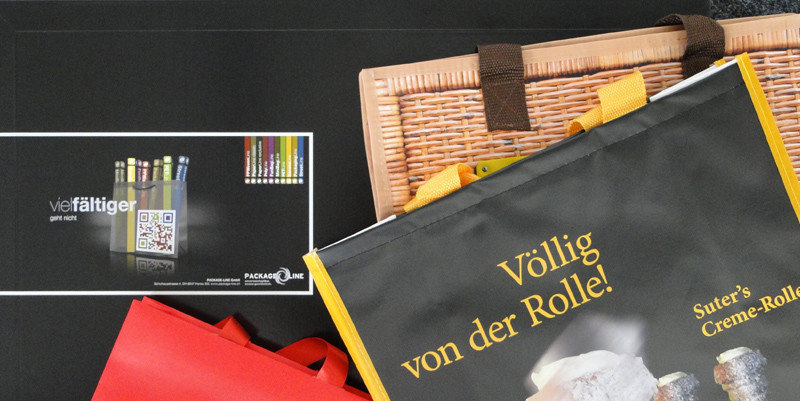 January 2015
Welcome to our new world of bags
PACKAGE LINE GmbH has not reinvented itself. Quite the contrary. As a manufacturer of carrier bags in PPWoven, in polyethylene and in kraft paper for daily use, we are creating order in an overview of our products. This is necessary. Many new products and adjustments to our ranges require information and, above all, examples. Larger gallery pictures give you a view of the quality and finish of our carrier bags and paper bags.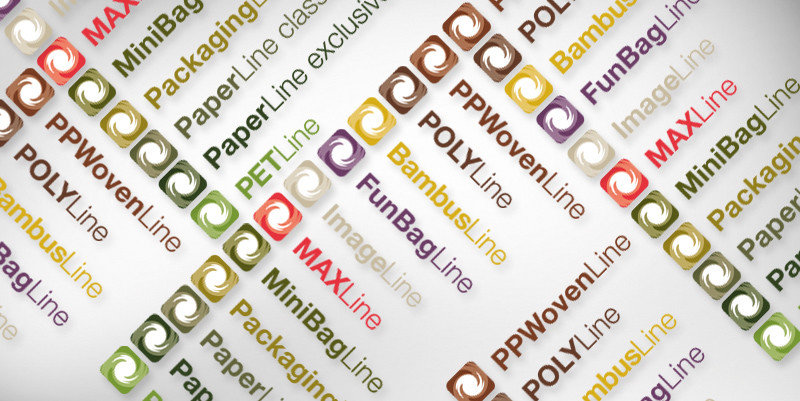 NEW: ImageLine
Customer and relationship care has received a new tool. With our ImageLine label, we are offering creative product ideas in special materials. One up-to-date example is our range of felt products. Because of their exceptional feel, people like to pick up these carrier bags, menu folders, spectacle cases and much more far more than just once. The pleasant feel when touching the material creates trust.
Find examples here: more
Commitment
Nature and the environment: Topics that are our constant concern. Searching daily for new ideas, new materials and manufacturing options, we experience and see a great deal. Innovations come to us constantly. What remains in the end are products that display a balanced relationship between environmental sustainability and economic efficiency. In our opinion, looking for good ideas is worthwhile, as our new bamboo bags demonstrate.
Discover more here: more